Working equitation
The Camargue Riding is the heritage of a centuries old tradition of "Gardians" in the Rhône's delta and its surroundings, with the white Camargue horses and black bulls. It's the french version of "Working Equitation" or "work in cattle".
Especially in Portugal, they give much importance on the fine and placed riding, the meticulously and correct execution of the lessons. In addition to the traditionnal Working Equitation, which differs only slightly from the Spanish Doma Vaquera in Portugal classical dressage has a very high priority. It is an important part of the very fascinating competitions of "Working Equitation", which is now all over Europe with all other peoples who have been working with cattle jahrunderten (Camargue Riding, Mare Mania ...) has gained in popularity.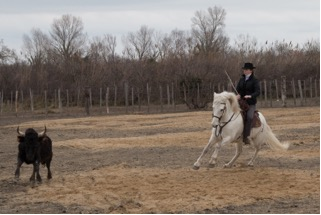 It requires the riders to a high degree accuracy and delicacy in dealing with the horses, especially in the fast-paced exercises in Trail course, involving the fast gallop around slalom poles, bridges, poles and other obstacles.
Such a course places high demands on the agility and quick communication of horse riders un.